Updates
Friday 20 September
The following updates are now available:
Year 10 - Information for Silverstream Retreat Monday 23 - Friday 27 September
Transport Arrangements - Buses

Arrangements for Year 10 Buses to and from Silverstream Retreat (Monday 23 - Friday 27 Septemebr)

Senior Student Programme

Timetables for Tuesday 24 - Friday 27 September are still being confirmed.
Tuesday 17 September - 7pm
Thank you again for your support and patience as we continue to work through this difficult situation. I am writing to update you with the most recent events and inform you of the plans moving forward.
Most importantly, we are not able to return to school on Thursday 19 September as we planned. The two main issues that will make the school safe for students to be here – the demolition and removal of fire-damaged and asbestos contaminated buildings and surrounds, plus the restoration of power (for lighting, heating and internet access) – have not been fully completed.
The removal of the damaged buildings and surrounds is expected to be finished in the next day or so.
Following that, an independent survey of the school environs will be undertaken to determine if there is any spread of contaminants further than the current cordoned-off areas. In the unlikely case that any is found, this will be removed and/or the area washed down. An asbestos clearance Certificate will then be issued to the school which will allow students to return.
Initial inspection of the electrical cabling last week indicated that there is damage to some cabling, and this will need to be repaired or replaced.
We are expecting the Certificate to be issued on Monday 23 September, and the electrical works will be able to commence that same day.
Restoring power to buildings/blocks will occur on a block-by-block basis. Generators will be placed onsite to allow us to open up blocks (and classrooms) from Tuesday 24 September.
As you can see, the process to having the school fully operational again has been a long and complex one. The health and safety of our students and staff has been paramount in the process. The need to keep our junior students in a teaching and learning environment, as well as ensuring our seniors continue their work towards NCEA has also been a crucial factor in decision-making up to this point, and in determining the plans up to the end of the term, over the holidays, and the period of time before NCEA exams start.
Moving forward, the following schedule will be put in place for the remainder of this term (the last day of the term is Friday 27 September):
Year 9 students

Will continue to work from Maidstone Intermediate School.
They will still be working with Stephen Rodger and Kath Cowley and assorted teachers.
Transport arrangements that are currently in place will continue.
Year 10 students

Wednesday 18 September – will be at Lane Park Church.
Thursday 19 – Friday 20 September - their programme will be suspended, and students will be asked to continue with a programme of learning at home. This is a series of activities that have been put together by teachers to ensure learning continues over these two days. Students will be given a hard copy of the programme tomorrow (Wednesday). It will also be emailed home to parents and caregivers, as well as being available online.
Monday 23 September to Friday 27 September, the Year 10 programme will recommence at Silverstream Retreat. Several spaces have been made available to the school, and these are complemented by a lot of outdoor space. Awhina students will also be working from here.
Amy Perkins, Teresa Cargo and Haley Charles will continue to oversee this group and oversee the programme of learning.
We are currently working with the Ministry of Education and the bus companies to ensure the services currently running include Silverstream Retreat. We will have information for you when available.
Year 11-13 students:

Will complete the final day of practice exams / workshops tomorrow (Wednesday)
From Thursday 19 – Monday 23 September inclusive, a Tutorial Programme will operate across two venues – Trentham School Hall, and Hutt International Boys' School (HIBS) auditorium/classrooms.

Students will be invited to attend tutorials where they can participate in a subject tutorial, work on assessments, or have questions answered by their teachers. The tutorials are not compulsory.
A timetable of the tutorials has been put together and is being checked by teachers. It will be available tomorrow.
The timetable will consist of 2 sessions per day – 3 hours in the morning and 2 hours in the afternoon.
The school is not able to provide transport to or from HIBS – it will be the responsibility of students to make their way to the tutorials.
Further details, including the Tutorial Programme timetable, will be sent to parents/caregivers and students, and made available on the website.

From Tuesday 24 – Friday 27 September inclusive, senior students will return to the College and will be back in their normal subjects in this Teaching Programme.

This is 'back to school' for seniors and is compulsory
A revised timetable will operate, consisting of 3 sessions per day, each 90 mins long. The sessions will be based on the 6 lines of the timetable.
Parents/caregivers of students at all levels, and senior students, will receive further information by email. Updates will be available on the website.
I am very aware that our senior students are getting concerned about their learning. The Tutorial Programme and return to school provides students with the opportunity to continue with their learning. To make the most of the tutorials and class time, students need to:
Be prepared – know what you want to work on, be clear in what you need from teachers, take advantage of the resources available. The same applies for the return to school – there is limited time left this term for teachers to work with you.
Be responsible – turn up on time, in correct uniform, with model behaviour. We don't have time to waste with anything that disrupts teaching and learning.
Please note too, that other plans are in place for our senior students:
Teachers will be offering tutorials and workshops during the upcoming holidays
Classes will continue after Senior Prizegiving, right up until Thursday 7 November (day before NCEA exams start).
Your teachers are looking forward to working with you again, we hope you are looking forward to getting back to learning!
Judith Taylor
Principal
Tuesday 17 September
We were informed late yesterday that we will NOT be able to return to the UHC site on Thursday 19 September as planned. Today has been spent working to reconfigure our programmes for students as some sites are not available after Wednesday.
When everything has been fully confirmed, new information will be posted on the website.
Sunday 15 September
* We were pleased to welcome the Minister of Education, Chris Hipkins, to the school on Friday 13 September. He expressed his concerns for the school, and admired the support that had been offered and provided from so many quarters. He was impressed with the temporary relocation of junior students to Maidstone Intermediate and Lane Park Church, and expressed his support for the school as we move forward.
* Inspections of the electrical cabling underneath the Technology block was almost completed by end of Friday and initial reports are positive.
* We continue to have students at the 4 Satellite Schools this week. We will be posting an update later today (Tuesday 17th) on future developments. We are all very keen to get back to normal.
* We have made changes to our calendar for the remainder of the year up to the start of NCEA exams (Friday 8 November). Most of these changes have been around maximising teaching and learning time for senior students, and limiting the interruptions on class time. Key changes include NO further late starts on Fridays - school will start at the normal time of 8.40am, and changes to the Sports & Cultural Photo Day, now run over two afternoons - Tuesday 15 October and Wednesday 16 October, 1.30pm - 4pm (Please note correction of month.)
Friday 13 September
Letter to Parents & Caregivers, Friday 13 September
Thank you for your continued patience and support of the school as we work through the issues resulting from the fire. I am writing to give you a brief update.
Demolition has started on the fire-damaged block. Work has been managed carefully because of the safety issues around the removal of the asbestos. Classrooms T1-T3 have been demolished and materials removed from site. The Foods classroom will be next and the Textiles classroom will be boarded up.
Students have been coping very well with the changes. The Senior exams and workshops have gone ahead as scheduled, and the attendance has been good and comparable to any previous exam period. The juniors are enjoying the change in scenery at Maidstone Intermediate and Lane Park Church. Their days have been filled with a wide range of activities, and different ways of learning. Interestingly, Year 9 students at Maidstone have managed just fine with Maidstone's no cellphone policy, and both Year levels have managed the changes at lunchtime – eating together in classrooms/cafeteria for a set period of time, before going out to enjoy the fresh air.
The police continue with their investigation into the arson and I am hopeful that they will find the culprits.
At this point, the date of return to the school site has not changed – Thursday 19 September is when we are expecting to have the school ready to open. The process of removing the damaged classrooms, making the site safe and restoring services is overseen by the Ministry of Education, so we are totally dependent on their progress and information as we look at re-opening the school. When students return, all classes will operate, although they will be in different areas of the school of course and there will be limited resources, mainly in the replacement for the Foods classroom.
Exams for senior students continue into next week. Although there were early issues with parents and students not complying with Fergusson rules around vehicles at the start of school, these have now been resolved. Thank you for not parking in their carparks and not congesting their main gate area (students can be dropped off at UHC as normal, in our carpark).
We have been considering ways in which to ensure senior students can catch up with missed learning time, and teachers are reviewing their teaching programmes and we are looking at our school calendar of events, removing or minimising activities that will cut into classroom time. We will be letting students know of other actions when they return to school.
For parents/caregivers with Year 8 student who will be starting here next year, we are finalising our reviewed Interview schedule and will be in touch with those families shortly.
Currently, a generator powers the Administration Block, so we can use the internet, phones etc up to 5pm each day. If you call outside of office hours, you won't be able to connect or leave a message.
For students who have not yet made their option selections for 2020, please use Kamar for that process – it is now up and running and should be available for you 24/7.
Information for the school community will come out through the school website. The UHC Fire tab now also contains information for students.
Again, thanks for your support, I will update you further early next week when I have more information.
Judith Taylor
Principal
Sunday 8 September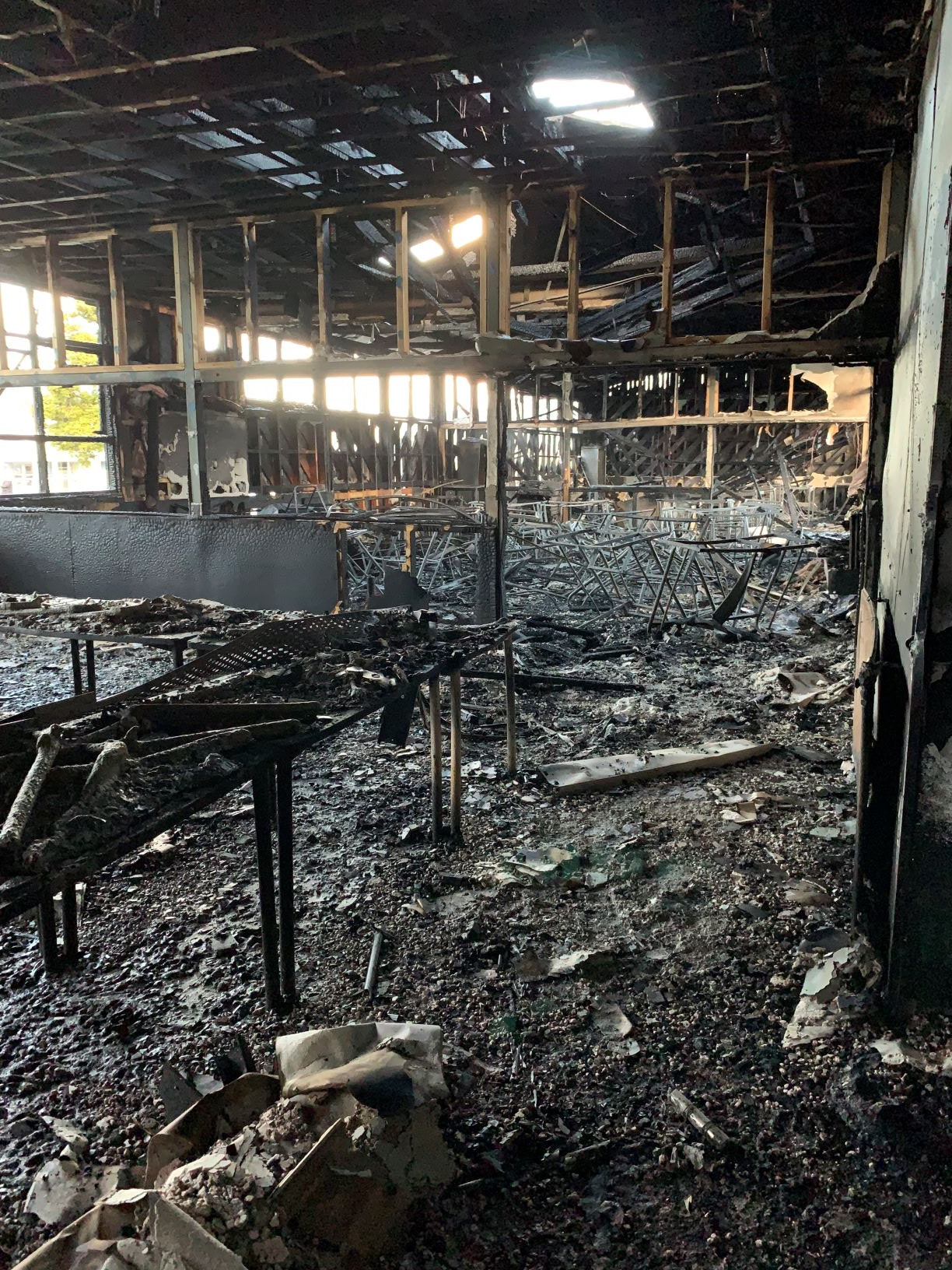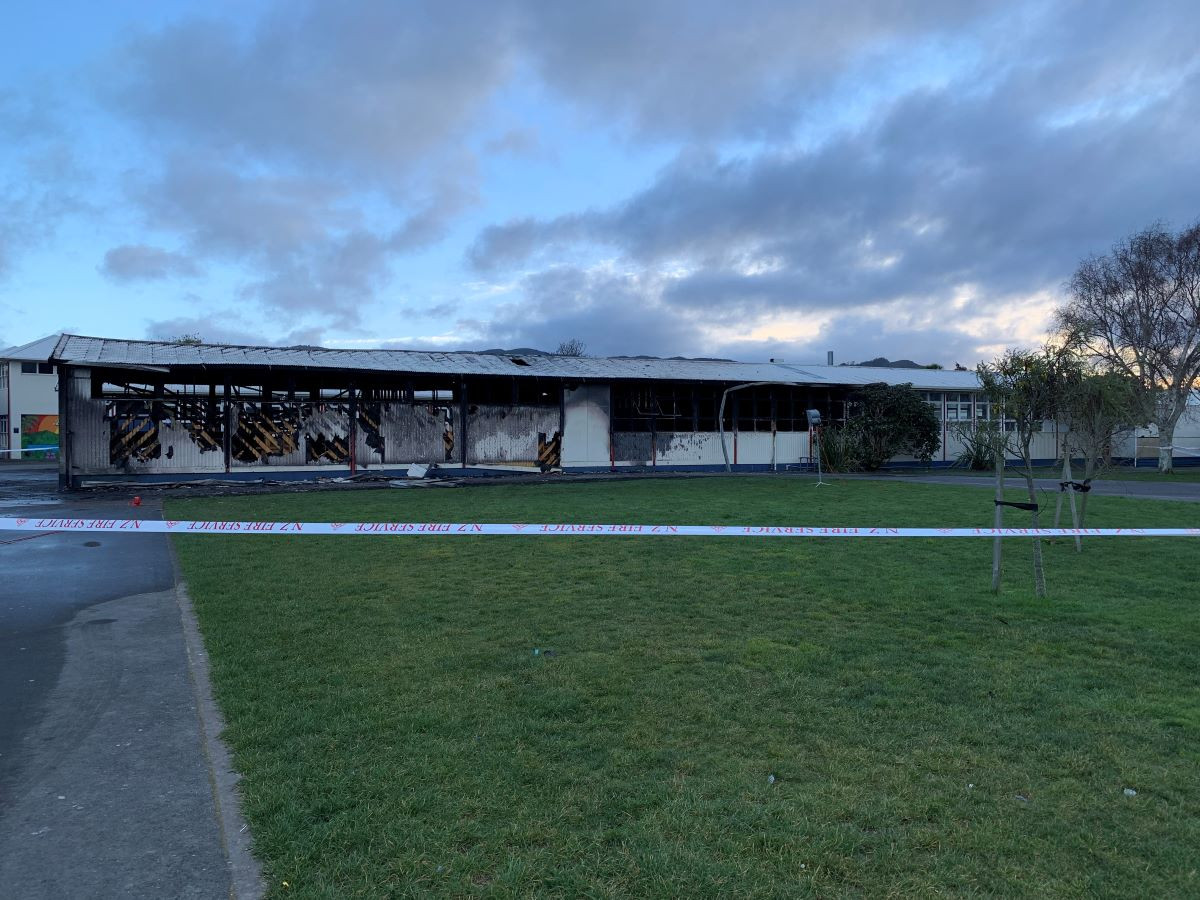 Well, what a week it's been. The shock of the fire 7 days ago, standing on Moonshine Road as the Emergency Services went to work, joined by staff and students watching amongst the neighbours and the curious. The next day assessing the damage and the impact on the school – the gutted classrooms, the smoky and waterlogged foods and textiles rooms. It didn't look THAT bad, we could work around it couldn't we? And then the reality of no power in the school and the danger of asbestos contamination. It was a lot worse than we first thought.
The experts came in from everywhere. Decisions were being made around where the specialist classes would be re-roomed in the school – the cooking classes into the Pavilion, the textiles classes behind Te Manawa. With no power, lighting or heating, we started to look at the senior exams, the juniors needing to be back at school. And the suspicion that it was arson was confirmed.
The support from our community has been amazing. Emails and Facebook messages of support flooded in from hundreds of people with school connections current and past. Our local schools, kindies, and Principals have been tremendous with their quick responses of support and offers of help. The baking, food, vouchers, flowers, anonymous donations and simple aroha has been both humbling and a source of strength.
And so we looked forward. The teachers and staff returned to school on Thursday and by the end of the day we knew where we were going and what we would be doing. By Friday, the logistics were falling into place and plans were firmed up. A week after the fire shut us down, we would be up and running again.
We will operate out of 4 Satellite schools. Fergusson Intermediate and Trentham School will host our senior exams and workshops. Our Year 9's will work out of Maidstone Intermediate, and our Year 10's and Awhina students will work from Lane Park Church. Our teachers have really taken this opportunity to think outside the square and do things differently, through collaboration and sharing of great ideas. Resourceful thinking around transportation will get our students where they need to be. We are good to go. Kia kaha.
Thanks, again, for your support. I'll be letting you know how we go.
Judith Taylor
Principal
Thursday 5 September 1pm
Thank you once again for your patience, it's been a long few days of uncertainty for us all.
The decision has been made to demolish the three burnt classrooms. The safety of our staff and students is paramount. A removal and demolition plan is in place and debris clearance started yesterday. Although the building contains asbestos, air testing carried out by a licensed asbestos removalist has indicated that asbestos fibres are not airborne and that there is no health risk to our students or those of neighbouring schools and communities. Ongoing air monitoring at the site will ensure that the demolition process is carried out safely as per the asbestos regulation requirements. Demolition will take about two weeks. The asbestos clean-up will be completed early next week, followed by demolition.
The school remains without power although we have generators for essential services. Until the demolition is completed, we are not able to access the key power cable to assess what further work, if any, is required to provide power to the whole school.
If all goes according to plan, we expect the school to remain closed until Wednesday 18 September, however this timeframe may change.
We have been working closely with the Ministry of Education to minimise disruption to students' learning and we are now able to advise that we will be running 4 Satellite Schools in areas around Upper Hutt.
Year 9 students only will have classes taking place at Maidstone Intermediate
Year 10 students only will have classes taking place at Lane Park Church
Senior Practice Exams will be held at Fergusson Intermediate Hall
Senior Internal Assessment workshops will be held at Trentham School Hall
Awhina Resource Centre students will be at Lane Park Church.
We are hugely grateful to these schools for their assistance.


Key dates are:
Friday 6 September – school closed
Monday 9 September – Junior (Year 9 and 10) Programme starts at the two venues
Tuesday 10 September – Senior Practice Exams and Workshops start. Please note the NCEA Level 1 Practise MCAT exam will be held at Fergusson Intermediate Hall at 9am on Monday 9 September.
We are working on rescheduling the timetables for the Exams and Workshops and will publish a revised timetable for the different sites on the College Website as soon as it is available.
We are also working with the Ministry to reroute buses to pick up and drop off students at the different venues. This information will also be published when available.
As you can appreciate, this has taken a huge amount of work in a very short period of time, and there are many details still to work through. The key point though, is that we will have our junior students back into a learning environment, senior students will be able to complete their practice exams.
We will continue to update you via Facebook, website and email, with the more detailed aspects of the changes being emailed to parents and caregivers.
Again, many thanks for your patience and support (especially when the generator fails at 12.57 and the power and internet connections go down)
Judith Taylor
Principal
Update Tuesday 3 September 10pm
Thank you for your patience as we continue to work to get our school up and running again.

Over the last two days, we have had a large number of specialist services onsite, assessing the damage from Sunday night's fire and determining what is needed to move forward. We have been working with the Fire Service and the Police on the cause of the fire, and with the Ministry of Education and insurance assessors on what we need to get teaching spaces set up in the school for the affected subjects and what we have to do to get the school open and ready for teaching and learning.

The college is closed for two main reasons. As a result of the fire, the school has no power and therefore no lighting, heating, or fire alarm service. The fire also resulted in the exposure of asbestos fibres in the immediate surrounding area and fire debris, and the experts must determine how they will remove the damaged building and manage the asbestos risk. It is therefore not safe to have the students at school.

The lack of power has affected our ability to communicate directly with parents and caregivers via email, so we are forced to use social media and the website. You will have been unable to contact the school (or individual teachers) by phone or email. Limited restoration of power tomorrow will see us able to return to email updates, but I encourage parents and caregivers to download the Upper Hutt College School App from Google Play or Apple Store, as we would like to use that to push out notifications.

Classrooms T1-3 have been badly damaged by the fire and will be demolished. The Foods and Textiles classrooms have smoke and water damage and are unusable. These specialist teaching spaces have been temporarily relocated in different areas around the school and we are purchasing the equipment and resources needed to continue teaching and learning when students return.

We are very mindful that students will be worried about not being at school and missing work they need to be doing. Students who have access to Google Classroom are asked to check this for work and instructions from teachers. Senior students who have practice exams have some extra revision time now and can email their teachers directly if they need help with revision or any other aspect of their learning.

Finally, the cause of the fire is suspected arson. We are working with the Police to identify the culprits. If you have any information, please contact the Police or the school.

Again, I would like to thank you for your patience and support as we work with the Ministry in getting our students back to school. Their safety and wellbeing are paramount, and we are working hard behind the scenes to minimise the impact on their learning.

Judith Taylor
Principal
Update Monday 2 September 8pm
Another update, this time for parents and caregivers and their soon-to-be Year 9 students who were scheduled to meet with senior staff for their enrolment interviews tomorrow (Tuesday 3 September).
Unfortunately, it is possible that we will NOT have power restored to the school in time for these interviews, so the difficult decision has been made to cancel the interviews. We will be in touch to reschedule when we have power (and therefore phones!).
I apologise for any inconvenience this may cause, but we look forward to meeting you soon, and welcoming you to our school.
Judith Taylor
Principal
Update Monday 2 September 5.45pm
Firstly, thank you to everyone for your kind thoughts and messages of support. The fire has destroyed 3 classrooms and damaged 2 others, and we have been onsite since 7am working with authorities and different agencies, assessing the impact this will have on our school and students and making plans to get things up and running.
We do not yet have full services restored to all areas of the school, and we need to ensure that the spaces around the damaged classrooms are safe for our students and staff.
Therefore, the college will be CLOSED, TOMORROW – TUESDAY 3 SEPTEMBER.
I will update you about reopening the school as information comes to hand. Thanks again for your support and understanding.
Judith Taylor
Principal
Fire at Upper Hutt College - Monday 2 September
We have had a serious fire at the college, late Sunday evening. The fire was contained to one wing of the Technology Block and has caused extensive damage to part of the block T1-T4. The fire was attended by a large contingent of emergency services and brought under control. Emergency personnel will remain onsite overnight.
We will be working hard on Monday to ensure the area affected is secure, the school is safe for students to return, and that teaching and learning is affected as little as possible. I'm aware that students may be concerned about their work and the impact of the fire on their studies for NCEA – this will be a priority for us to manage.
Fortunately, Monday 2 September is a Mid-term break, with no students at school. After assessing the damage and impact, we will confirm later on Monday if school will be open or not on Tuesday 3 September.
Thank you in advance for your support. All updates will be on the College website and Facebook page.
Judith Taylor
Principal