Enrolment 2022
We are now accepting enrolments for 2022. Please download the appropriate Enrolment Booklet 2022 below and email completed forms to our Enrolment Officer, Kirsten Hicks - [email protected]nz
As we will start our enrolment meetings (where we meet with parents/caregivers and our new enrollee) before the end of Term 3, we would appreciate receiving all enrolments by Monday 23 August.
Please note that we do not have an enrolment zone and we welcome enrolments from all students, regardless of the area in which they live.
Information regarding Enrolment Interviews will come in due course. Our 2022 Prospectus is available below.
Information on 2022 Year 9 subject choices is available on the curriculum tab of this site on the Junior Curriculum page. You can also access the Year 9 options by clicking the red Button below the blue Year 9 enrolment button under this text. Please note that the Year 9 curriculum has been revised so options are now a term long and up to 8 options can now be selected.
If you have any queries at this stage, please don't hesitate to contact Kirsten. We look forward to receiving your enrolment and meeting you all very soon.
Upper Hutt College 2022 Yr 9 Enrolment Booklet
Upper Hutt College 2022 Year 9 Options Booklet - Revised
Upper Hutt College 2022 Yr 10 - 13 Enrolment Booklet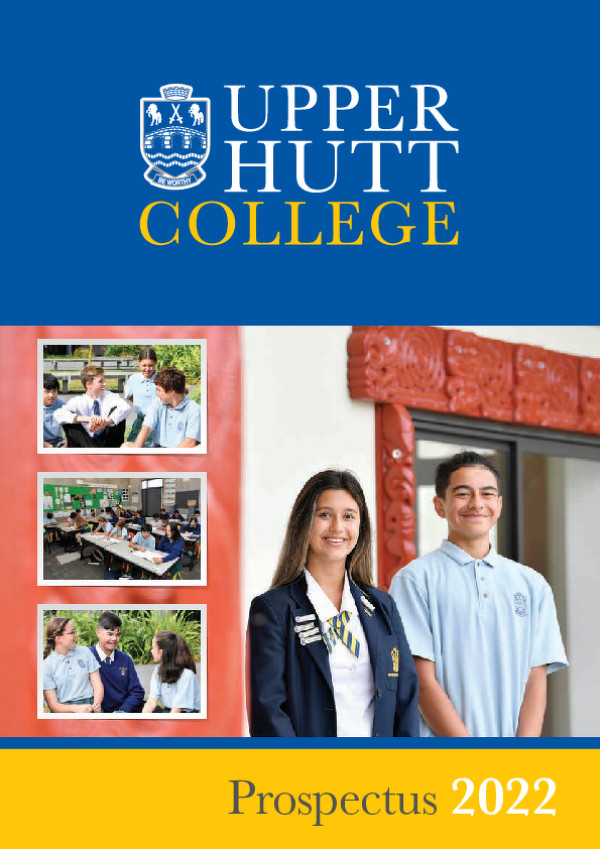 Please note these forms are for local domestic students.
International enrolment forms are found under our International section.
Please visit the Curriculum area of this website for more information on the courses we have available.
UHC Virtual Tour


Uniform
The school uniform is worn by all students. It is available from New Zealand Uniforms in Lower Hutt - click here for further information.
The college stresses the importance of wearing the uniform tidily and correctly and reserves the right to loan students second-hand items of uniform, withdraw students from class or send students home if they are not in the correct uniform.
Details on the school uniform are available here